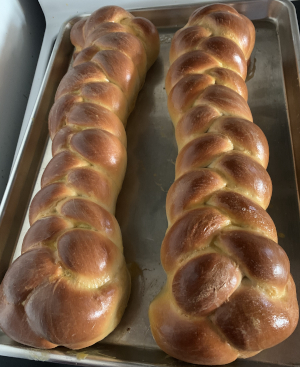 Great for parties. Serve with a side of salted butter and guests can dig in, tearing pieces off with their hands. I've had this recipe in my notes for many years and I don't recall the original source.
Ingredients
6 to 7 cups of flour
3 eggs
1/4 cup butter i
1 TBSP sugar
4 TSP salt
2 TBSP yeast ii
1 cup hot water
1/2 cup cold water
1/3 cup warm water
1/2 cup honey iii
sesame or poppy seeds iii
Tools
Mixer with dough hook and whisk attachment
Large baking sheet pan, greased
Pastry brush
Directions
Mix yeast and warm water in a small bowl.
In the mixing bowl add: hot water, butter, salt, sugar, and honey. Let the butter melt. Mix it up using the whisk attachment.
To the mixing bowl, add the cold water. Mix.
Beat the eggs in a separate bowl and pour most of it into the mixing bowl. iv Mix.
To the mixing bowl, add the yeast water mixture. Mix.
Change whisk attachment to dough hook. Add flour one cup at a time while mixing. v
Kneed it into the rough shape of a ball. vi
Transfer to a large bowl, vii cover with a towel, and let it rise for an hour.
Gently kneed the air out of it, viii cover with towel, and let rise for another hour.
Gently kneed the air out and cut into six equal sized pieces. Three at a time, ix roll the pieces with your hands on a table until they are about one inch in diameter. x Braid the three pieces together xi and place on the greased baking sheet. xii Repeat for remaining pieces.
Let it rise for at least another half hour. At some point pre-heat oven to 350 degrees.
Bake for 35 minutes.
Using the pastry brush and remaining egg, cover the top sides of the baked loaves of bread. Sprinkle with seeds.