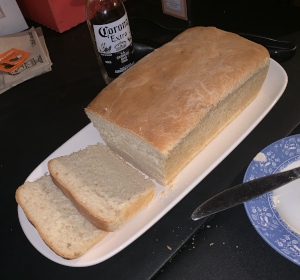 Need something to put your meat and cheeses on? This is the bread to use. It's also great toasted with some butter. Throw in some eggs and you got yourself a breakfast!
Ingredients
1/2 cup milk
1 cup hot water
1 heaping TBS sugar i
2 1/4 TSP yeast
1 3/4 TSP salt
2 TBS butter
4 cups flour
Tools
Loaf pan
Mixer (optional)
Instructions
Put the hot water, butter, sugar, salt, and butter in a mixing bowl. Whisk them together.
Add the milk.
Provided that the contents of the mixing bowl is not too hot, put in the yeast and continue whisking.
Add the flour. Mix it in with a bread hook. ii Let it go for about five minutes.
If the dough is still very sticky to the sides of the bowl, add a table spoon of flour while mixing until it mostly clings to itself. iii
Let the dough rise for half an hour. Knead it back down.
Let it rise for another half hour. Towards the end, get your loaf pan ready by covering the inside with butter.
Mold the dough with your hands into a smooth round log while also gently pressing most of the air out; put it in the pan, and press it a little bit so that it is even and snug. iv
Let it rise for at least another half hour, or until the dough has risen an inch over the top of the pan. v Have your oven preheated to 350 degrees for this moment.
Put the pan in the oven and bake for 35 to 40 minutes.
Remove the pan from the oven and remove the bread from the pan; put it on a cooling rack.