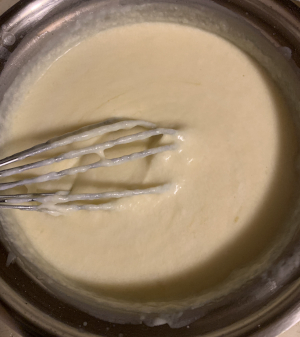 This is an ingredient to be used in other recipes, in the sense that you probably don't want to just eat sauce. It can be put over pasta, or rice, or perhaps used as a dip for chips.
Ingredients
These quantities are enough for one serving. They adjust fairly well up and down. Use more or less milk depending on how thick you want it to turn out.
1 TBS unsalted butter
1 TBS all purpose flour
1+ cup whole milk
1/2+ cups white cheddar cheese
1/8 TSP white pepper
Salt to taste
Tools
1 quart saucepan.
Metal whisk.
Knife or cheese grater.
Instructions
Make a white sauce.
Chop up or shred the cheese and put it in the sauce. i
Whisk it around now and then until it's all melted.
Add the salt and pepper.
^