Users of drugs like cannabis and psilocybin-containing mushrooms and all the other hippie stuff like to say you can't get addicted to these things; they say it's only a "mental addiction" and not a physical one. I'm writing this now, not so much as to disagree with the form of this assertion, but to disagree with the substance. Indeed, you cannot get physically acclimated to the non-opiate drugs, but this so-called mental acclimation is in fact worse.
If he dies (like opiate addicts die, no discussion possible) it's an addictive substance. If he doesn't die then there's no addiction involved, the guy in question is simply being a dumb ****.
So what if someone gets sick over running out of dope. People get sick from time to time and the cure is simple enough: lay in bed for a couple days and drink lots of soup. What's it matter if the illness is caused by a virus or by lack of a chemical. Being a "dumb ****" is infinitely worse because this is not something you can just ride out in bed. Mental addiction should better be called a lack of self-control, and this attribute is actually a damning one. i Do not be mistaken though, God does not forbid the use of drugs in general.
Likewise, no drug is ever generally forbidden, and drugs are nothing new to the mind of man (Ephesians 2:3 "desires of the . . . mind"). Soberness is commanded (1 Thessalonians 5:6, 8; Titus 2:2), but to possess a particular substance is never outlawed. God's law is perfect (Psalm 19:7). Man's law fits well into Proverbs 14:12 & 16:25.
The lack self-control relates to the love of one's self. These characteristics are listed with unholiness, and people who fit this description are at risk of eternal destruction. And yet there are many who will hypocritically judge those who point this out, particularly when the subject is obesity. They call the fatso "beautiful" which is already a perversion of language not unlike using the word 'literally' to mean the exact opposite. ii The same people duplicitously claim that it's not their fault; that there are diseases and genetic disorders that cause weight gain. iii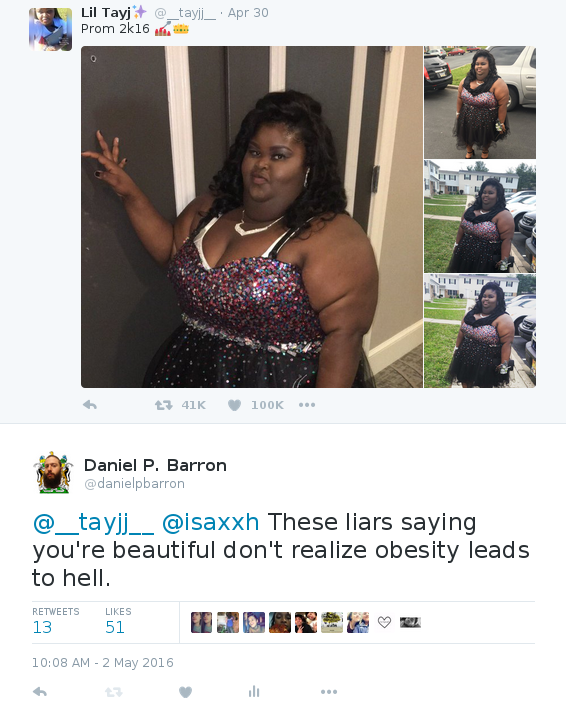 Pictured above is a pair of tweets. The first is an obeast in full prom getup, and the second is my reply which she foolishly 'retweeted' to an audience of thousands iv who showed up just to assure her she's beautiful after she publicly stated her regret in posting it in the first place. The result was an onslaught of mentions so great that it occasionally caused my iPhone twatter app to crash. Quoted below are some of the stupid things people had to say, interspersed with my rebuttals complete with Biblical references.
Explain how having pride is a sin. Let her live her life! If anything, you putting others down based on their looks is a sin.
The Lord hates it. v "Putting people down" — He doesn't.
And pretty sure it's a sin to add words to the bible that were never there
That is indeed a sin, but not one which I have committed in this context. vi The Bible explicitly says that over-eating is actually the result of following a false god! No adding of words going on here; following false gods clearly leads people to hell. vii
pride is not the same as self esteem. in the biblical sense it means boastfulness or cockiness
To esteem yourself is surely not to deny yourself, viii but is rather like loving yourself.
it doesn't say "body shaming is a sin" but if u really know the Bible u should know u gotta be a nice person n u must not be rude.
That's false; it is you who does not know The Bible. ix If Christ came not to bring peace, and if he came to set us against our own family, then surely it is also acceptable to be "set against" a complete stranger.
it says u gotta love the others just like u love yourself, therefore, having a high self-esteem isn't a sin wyd
You are adding to the word. x Where does it say we must love ourselves? Indeed we must "love our neighbor as ourselves." xi But we are also supposed to deny ourselves in order to follow Christ. These two things seem contradictory, and might be used as a gotcha by those looking to discredit The Bible, but the truth is apparent to those who read it like a child. xii If you simply take God at His word, and believe both statements, you can know that it is possible to both love another as if they were part of you, and also hate yourself; these are not mutually exclusive concepts. The overall message of The Bible is to believe in God and avoid eternal destruction. This is what you should want for yourself, and by extension it is what you should want of your neighbor. It is out of love that I judge others and tell them where they have erred, because I do not wish that they go to hell.
and she is gonna to hell for that? What if she was born that way?
Yes. God has caused her to be this way for the purpose of destroying her. xiii Aborted babies even go to hell. He creates most people specifically to make them disobey Him and then be destroyed in hell.
Yea..KYS hop tf off her and worry bout your life and even if it did "lead to hell" it doesn't affect you in any way
Her blood would be on my hands if I could have warned her and I didn't. xiv
whatever u say isnt gonna make u look any better, you claim to believe in God but you should know not to diss God's creation
God disses His own creation! xv
None of these people are loving or forgiving, and in some cases brutally wished that I would go to hell. They slandered me and also hypocritically called me ugly. As I told one of them, if I am indeed wrong as they say, they should wish instead that I repent. But they despise good, and that is why they care more about a disgustingly fat girl and her self-love than my own eternal salvation.