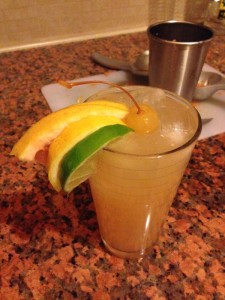 A bartender at a local Mexican restaurant i described this drink. He recommended the addition of rum, lemon, and lime to a drink I had been experimenting with at home. It had previously used a maraschino cherry and had the name "tequila sunset" which probably already exists as some entirely different drink. This improved version is much better; I'd even call it the best cocktail. The bitterness of the grapefruit is cut down by the liquors, and the other citrus provide a crisp taste. All the flavors blend in such a way as to mask the fact that it is alcoholic, but you will notice the rum if you have a taste for it.
This drink is a variation of the Cantarita which is itself a variation of the Paloma. The former is a spanish slang for "the little singer," hence my choice of the name "big singer." Rather than orange juice, it uses rum; I'd say that makes it bigger. Plus, the tumbler is a larger glass than a high ball, visually at least.
Ingredients
Directions
Squeeze the grapefruit, lemon, and lime. Save a slice of each to use as a garnish.
Strain juice into a tall glass tumbler.
Pour rum and tequila into the glass, measure if you feel like it.
Stir the liquids, add ice cubes until the level nears the top of the glass.
Put the slices of fruit on the glass rim, and rest the cherry atop the ice.
Pour a little of the sugar water from the jar of cherries down the inside of the glass.